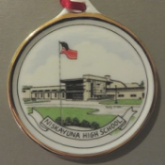 2014 Niskayuna High School
N-CAP is pleased to present the second in a series of Niskayuna Landmark Collectibles: Niskayuna High School!
This 2 ½" porcelain ornament features the Niskayuna High School on the front and the history of the High School on the back, and comes with a red ribbon.  The collectible is only $15 and makes a great gift!
A limited number of Niskayuna Town Hall Collectibles (the first in the series), are still available for purchase to keep your set complete!
You can purchase your collectibles by clicking the link below, by contacting the N-CAP office at 374-0744 or by emailing info@ncapnisky.org.  All proceeds benefit N-CAP programs.